We Do All the Work
A SOLUTION TO FIT YOUR TIME CONSTRAINTS AND YOUR COMFORT LEVEL
Whether you need a package of three, 5-minute speeches or three 30-minute keynotes, we can help. Our options ensure you get the level of service that best suits your needs!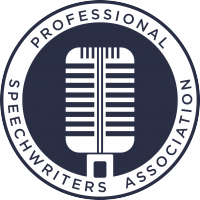 Current Member of Professional Speechwriters Association
Providing an excellent speech writing service is our specialty! At Phenomenal Writing, we take creating a custom speech so serious that we've dedicated an entire site just for that service (PhenomenalSpeeches.com). Our one-on-one approach to crafting professional speeches and award-winning creative writing background is what sets us apart from our competitors. We save you time, help you perfect your voice, and provide you with a professional speechwriter who becomes your communications partner, not just a service provider.
With clients in industries that include healthcare, politics, food distribution, hospitality and professional sports (NFL and Major League Baseball) – our professional speech writers have broad and deep experience.
High quality is our standard delivery, and we treat each assignment as a unique opportunity to tell a brand-new story.  So, if you need an executive speech or business presentation, we're here to help with our custom speech writing services.
"Cheril is one of the most gifted speechwriters with whom I've had the privilege to work. She has the uncanny ability to quickly capture the distinctive voice of the people she's writing for, and turns out effective, memorable speeches. Reliable, focused and a joy to work with, too. I recommend her without reservation."
"Cheril made this process so easy. After a thorough and efficient interview, she understood my needs and did a fantastic job helping me to tell my story! I plan to use her again!"
"It is always a pleasure working with Cheril. I admire her passion and love for her craft."
"Great work! Always on time and passionate about the message, speaker and audience. I could always count on Cheril to perfectly capture my voice."
"Cheril is an incredible writer and professional communicator. She's extremely prompt and has been wonderful to work with."
"Professional and Exceptional! Cheril was thorough, responsive and right on the mark in creating a great speech for a very special recognition evening for my company. I appreciate everything she did."
"Cheril was a pleasure to work with. Her work was amazing and far exceeded my expectations. She adjusted and took into account my industry and the audience. Cheril was incredibly timely and she is a true professional."
Watch Cheril's video introduction